Additional Services
Since 1999 emf has invested in equipment for enclosure modification and switchboard manufacture. This means we are able to provide a range of additional services for the Electrical industry.
Please contact us for more specific information and pricing on any of the following services.
---
Plastic Labels
Our most popular labels are the plastic labels shown in various applications in the gallery. Below is listed our stocked colours and the most common sizes. We are able to access other colours and can cutomise the label size and text to your needs. Please see the order sheet below to design and list the labels you want.
We are able to access acid, weather and impact resistant plasitc for harsh environments such as freezing works, food processing plants, swimming pools, or labs. Feel free to contact us if you require a labeling solution for such an environment.
You also have the option of industry approved double sided tape or mounting holes for alternative fixings.
Stocked Colours - Engraved Labels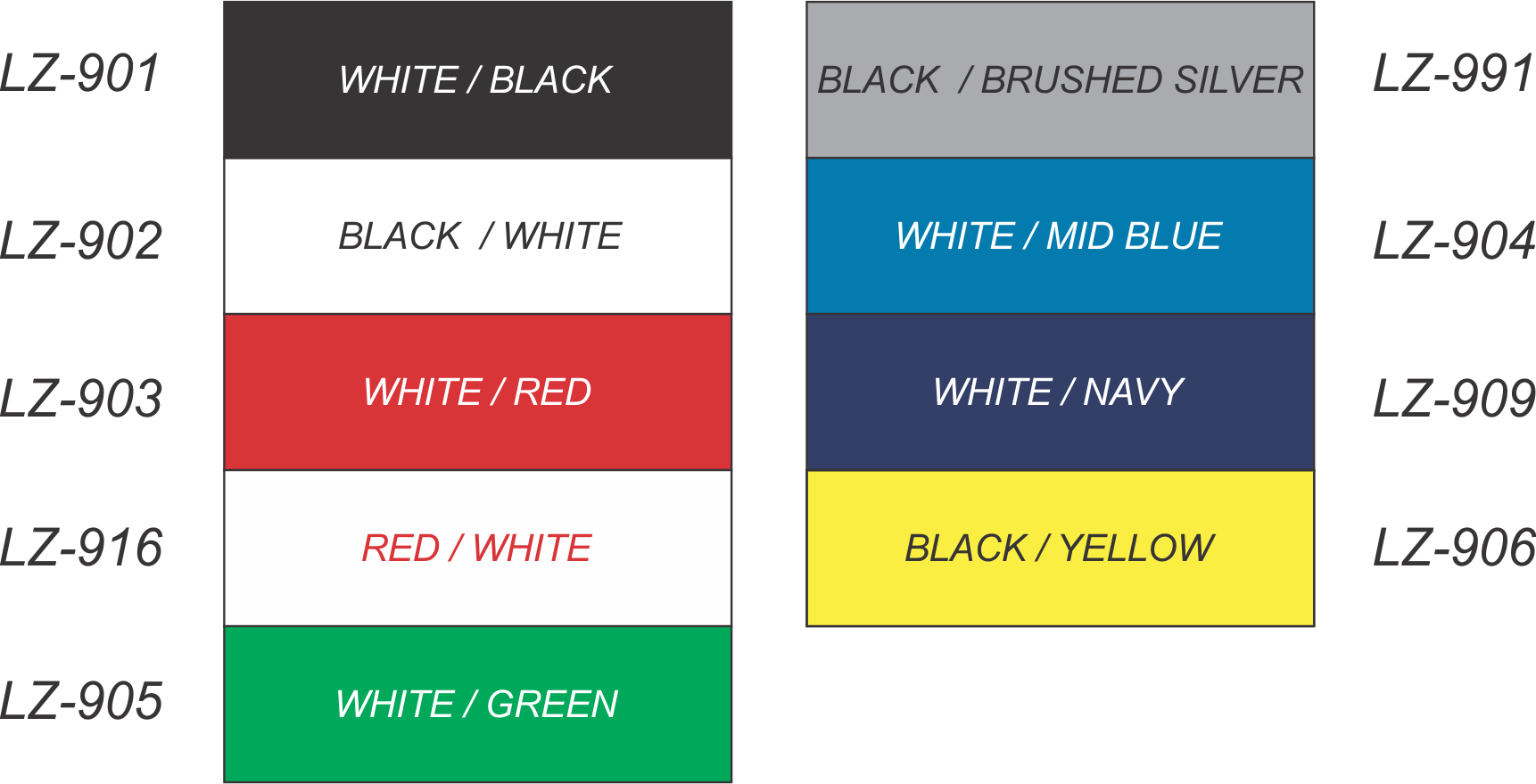 Other colours available on request
Indicative pricing for standardized labels with double sided tape.
40 x 10mm     $2.90
75 x 75mm     $7.64
80 x 25mm     $5.05
100 x 25mm   $5.52
100 x 50mm   $8.50
200 x 90mm   $18.40 (Body protected sign)
These sizes are an indication of the most common labels. Fully customizable label sizes up to 600 x 445mm. Please contact us for pricing. 
Cable Labels
Cable Marking labels are available in yellow, white, and blue with sizes to suit most wiring requirements. Listed below is our standard colors and sizes, please let us know if you are after a particular size or color. We also have the option of lable sleeves for 15, 20, and 30mm lables.
Order blank cards to write your own or send us a list of wire numbers and we can print them for you.
Stocked Sizes - Cable Labels
Sleeved or unsleeved Cable Labels
15mm long white labels, 80 per card
15mm long yellow labels, 80 per card
20mm long white labels, 80 per card
30mm long white labels, 60 per card
Cable Tie on Lables
60x11mm Cable tie labels Yellow 12 per card
60x11mm Cable tie labels Blue 12 per card
60x11mm Cable tie labels White 12 per card
Stainless Steel Engraving
Due to popular demand we have begun stocking a standard range of stainless steel labels that we can engrave to suit your needs. Below is listed the sizes of the labels we stock. Unfortunatley we are unable to customise the size of the labels in small quantities, however if you require more than 200 labels we can get them made for you.
Stocked Stainless Steel Label sizes
Tag Plate 100mm x 12mm
Tag Plate 100mm x 20mm
Tag Plate 100mm x 30mm
Tag Plate 100mm x 40mm
Cable Tie Label 89mm x 5mm
Cable Tie Label 89mm x 19mm
Etching of Supplied Stainless Steel Doors
We also can etch and punch stainless steel doors to best suit your needs, as shown in the gallery. These are a great long term solution to labeling for harsh or exposed conditions.
Masking Panels
Our Masking Panels are made from 2mm thick PVC, routered on a CNC router to ensure accurate sizing.
Only cut out the circuit breakers you need
No more pole fillers to fall out
Cut out with a sharp knife
Smooth, shiny PVC which stays clean! (not expanded foam)
Does not sustian a flame
Spare cutouts for controls or RCDs on Main Switch rail
Masking Panels are fully customised so please call us to order or, download the masking panel template below and email it to This email address is being protected from spambots. You need JavaScript enabled to view it. or call 0800 746 436 if you need any assistance.